Jeep Grand Cherokee is an excellent and powerful all-wheel drive SUV equipped with a selec-terrain system that allows you to adjust your Jeep behavior according to the type of surface to encounter.
Snow mode set additional stability in inclement weather. It is use on and off-road on loose traction surfaces such as snow. In SNOW mode the transmission may use SECOND gear during launches, to minimize wheel slippage. And also change the Jeep dynamics such as power, torque distribution, increasing traction control, and extra braking effect.
What does Jeep Grand Cherokee Snow Mode Do?
What does the snow button do? So here's an easy answer it helps you in the snow.
Jeep Grand Cherokee Snow mode can be selected when driving on slippery or icy surfaces.
But here's what it's going to do: allow the Jeep Grand Cherokee to start in SECOND gear.
It's better not to begin in FIRST gear. It's better to start In the SECOND, so you can limit the torque to the wheels; that way, you determine wheel spin, and you're less likely to lose control when you're trying to take off from a park, so if you have the snow button pressed, you're going to start in second gear.
The snow button was different for newer cars because it has an eight-speed transmission. Second gear is not as dramatic as a six-speed or five-speed transmission.
WITH AIR SUSPENSION, the default ride height for SNOW is Normal Ride Height (NRH).
what are the Pros and Cons of Grand Cherokee snow mode?
Pros
The torque is split 50/50 by rear and front wheels for better traction.
Snow mode, start your Jeep in SECOND gear rather than FIRST gear for higher torque and power.
Jeep Grand Cherokee Snow mode on Anti-Lock Braking System (ABS) allows slightly more wheelspin and increases the braking effect.
Snow mode provides extra stability by lowering the throttle input.
This driving mode increases traction control.
Cons
Snow mode increases Fuel consumption so that it will affect the Average MPG (miles per gallon) of your Jeep Grand Cherokee.
How do I put my Jeep Cherokee in snow mode?
It's very simple to put your Jeep grand Cherokee in snow mode.
First, you pull down the shifter level and then push the selec-terran switch to snow mode; the green light is on, which means you engage in snow mode.
How do I disengage Snow Mode on Jeep Grand Cherokee?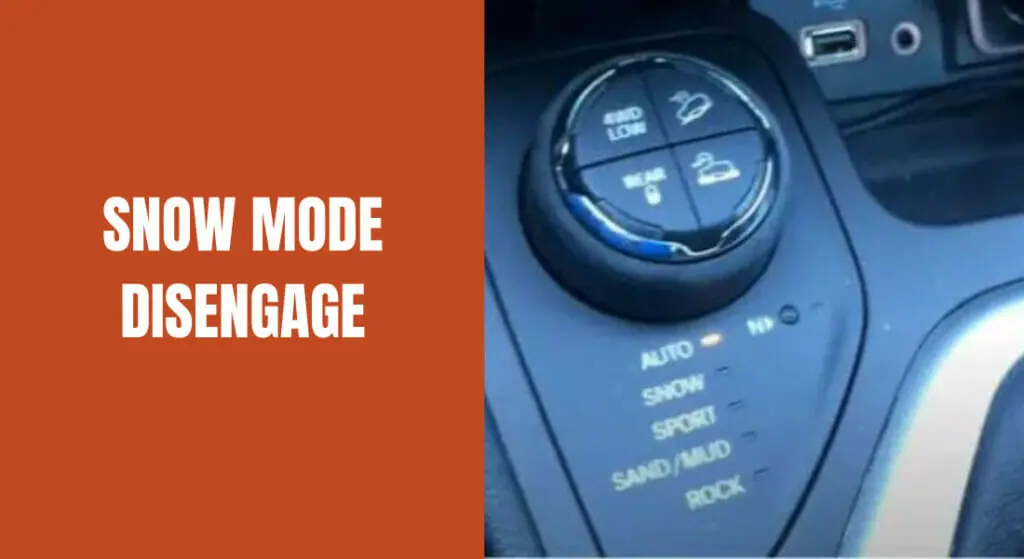 It's simple as well tap the selec-terrain toggle back to its previous position. The green light is off, so you disengage the snow mode.
Some tips for driving your jeep grand Cherokee in snow
Put your Grand Cherokee in 'snow mode' because it changes your Jeep's dynamics (torque distribution, power, and transmission setting).
Accelerate and decelerate slowly on the icy surface.
Avoid sudden movements because it ends with losing traction of your Jeep Grand Cherokee.
Do not use cruise control when driving in the snow because it's trying to maintain a speed set.
With manual transmissions- shift to a higher gear because 2nd gear might help get more traction off the line.
Pump the brakes (non-ABS(Anti-lock brake system) equipped vehicles).
Let there be light because snow reduces visibility.
Consider Winter Tires because they grip more in cooler temperatures.
Importance of snow mode in Jeep Grand Cherokee?
Driving in snow is dangerous and requires skills and experience. Snow mode increases the chances of your Jeep being able to get traction.
Snow cause over 1300 traffic deaths per year in a car accident. Here are some facts. According to safewise.com, Wyoming is the most dangerous state for driving.
Below is a list of states having more crashes because of snow:
States
Crashes in Snow
Chances of Being in a Crash,
per 100,000
Annual Snowfall
Wyoming
9
1.5356
91.4"
Vermont
5
0.7987
81.2"
Montana
7
0.6777
49"
Idaho
11
0.6647
71.12"
Maine
8
0.6018
50" to 70"
Michigan
59
0.5946
60.66"
Iowa
12
0.3841
18" to 42"
New Mexico
8
0.3837
28"
Minnesota
21
0.3825
36" to 70"
Nebraska
6
0.3164
28"
What Users Say Regarding Jeep Grand Cherokee Snow Mode
Let's read some feedback from real owners who experience the the Jeep Grand Cherokee snow mode.
I agree. I know what the book says, but it seems to soften the transients just a bit, mainly if you bump the gas a bit where it used to make a noticeable quick change in speed, it sorta just ambles a bit faster. Almost like turning Sport mode off twice…

I drive in nasty snow all the time, and find it helpful particularly when there is ice under loose snow, or that really nasty slush of deicer and cold snow a few inches thick down near 0 degrees. It doesn't do miracles, but small upsets in vehicle dynamics seem to be shrugged off just a bit better.

You can still end up in the ditch, but it seems you have to try harder.

If the snow touches the body, Snow mode and OR-1 are the way to go.

https://www.jeepgarage.org/threads/what-does-snow-mode-do.94173/
Here in central Ontario snow mode works well for me during slippery or snow covered road conditions. Wheel spins off corners is minimized and Jeep is quite stable. Lose a lot of that "I'm gonna slide into the ditch any minute" feeling. And yes it obviously is enhanced by decent snow-rated tires. My Dura Tracs perform as expected although they probably are not the best choice on ice.
Just a reminder for anyone new to Jeeps (or any other AWD / 4WD) that although these rigs are very capable and can make their way through some pretty nasty road conditions, some common sense and caution is still mandatory to ensure you "keep the shiny side up" ! Seems like everytime there is a news report on TV about bad weather, they always have a shot of some guy in his nice new Explorer or whatever laying on its side in a ditch. This coming from a guy who 10 yrs ago dumped a Jeep Liberty end over end into a field. Hell of a ride…now I know what those Nascar guys experience when they barrel roll. On the upside, our Jeep gave her life for us, and wifey and I walked away without a scratch.

https://www.jeepgarage.org/threads/what-does-snow-mode-do.94173/page-2
FAQs
How fast can you drive in snow mode Jeep Grand Cherokee?
Driving on snow is very dangerous, so it's important to reduce your speed by half. There is no speed set for snow mode because of how good an ABS (Anti-Lock Braking) and TC (Traction Control) system your jeep grand Cherokee is equipped with is important to drive as quickly as the condition allows you safely.

Can you switch to snow mode while driving Jeep Grand Cherokee?
Yes, depending on the terrain conditions, you can switch to snow mode, auto mode, sport mode, or sand/mud mode while driving.
When should I use snow mode on my Jeep?
The simple answer is when the road is snow-covered. In the snow mode, torque is better distributed over all four wheels and starts in 2nd gear. This may help get more traction off the ground.
Conclusion
Driving in the snow is risky. Even experienced drivers may have difficulty getting out of it. Consider those who have no experience or skills at all.
As a result, whenever you're on a snowy road, we recommend using the Grand Cherokee snow mode. It makes driving easier.
Sources