Sport mode seems in all most every modern vehicle. It was first introduced in Rennzweier (double racer) by the german company known as Tatra in 1900.
Jeep Grand Cherokee sport mode is for fun performance driving. It can enhance the driving capabilities of your Grand Cherokee.
When the sport mode is activated, the engine, transmission, steering, and suspension (if equipped with air suspension) are all set to their sport mode settings.
Sport mode will provide an improved throttle response adjust transmission shift points as well as tighter suspension and steering, and it will drop Grand Cherokee to aero height to enhance the driving experience.
Jump to

What does Jeep Grand Cherokee Sport Mode Do?
Jeep Grand Cherokee's selec-terrain modes selection system consists of the following positions. Such as ROCK, SAND/MUD, SNOW, AUTO, and SPORT. Each one provides ease and comfort depending on the terrain conditions.
You can tap the selec-terrain toggle up or down to cycle through the positions.
Sport mode makes your grand Cherokee more responsive to driver inputs. It tells the system to change throttle sensitivity and transmission shifting pattern settings.
Sport mode is intended to increase throttle sensitivity. It transfers transmission shifting more aggressively. Sport mode improves the engine response by delaying upshift and promoting downshift. This setting will lower the height of the Grand Cherokee, making the steering heavier, extra wheel spin and rotation through the corner. Sport mode also enables lunch control for quick acceleration from a standing start.
AERO HEIGHT: (Lowers the vehicle approximately -0.8 inches [-21 mm] Front and -1.0 inches [-25 mm] Rear)
Remember: Sport mode is only available in 4WD HI
Jeep Grand Cherokee Sport mode (Pros & Cons)
Pros
Sport mode s useful when exploring your Grand Cherokee's full performance capabilities. It can increase torque and engine power and response to get high-speed quicker in no time.
As we know, sport mode boosts torque and power of the engine and makes throttle response sharper; so that acceleration time and speed are improved.
Sport mode adjusts suspension height and ground clearance. When sport mode is turned on, the suspension is lower for better action through the corner and lower the centre of gravity at a higher speed.
Sport mode makes steering tighter. And make steering more responsive for an awesome driving experience.
Cons
Continuously elongation of sport mode can cause fuel economy to degrade. Sport mode enhances your grand Cherokee's performance, so the engine requires more fuel to burn.
The activation of the sport mode generate high power output so that Engin bearing to more strain. And the Excessive RPMs cause your Grand Cherokee engine to exceed the redline. Thus the engine is gradually unable to perform at the same level, and ultimately Engin's lifespan shrinks.
How do I put my Jeep grand Cherokee in Sport mode?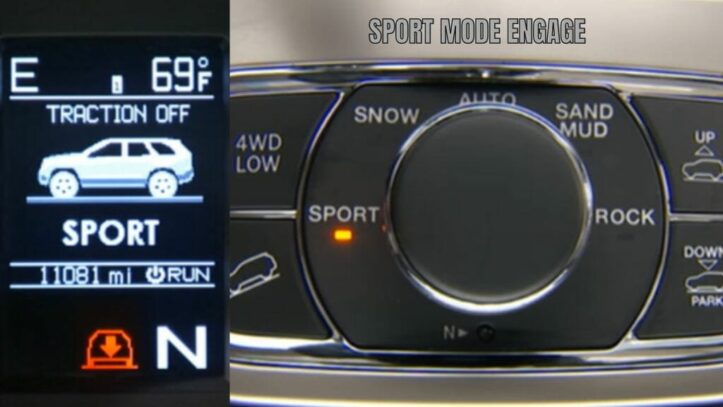 Sport mode is for fun or no time lift to reach somewhere.
Putting the Jeep grand Cherokee in sport mode is very simple and easy.
You can activate sport mode by pushing the SPORT ON button on the instrument panel switch bank or by selecting SPORT mode using the selec-terrain switch.
When the Grand Cherokee sport mode is activated, an indicator light will illuminate the dashboard.
How do I disengage Sport Mode on Jeep Grand Cherokee?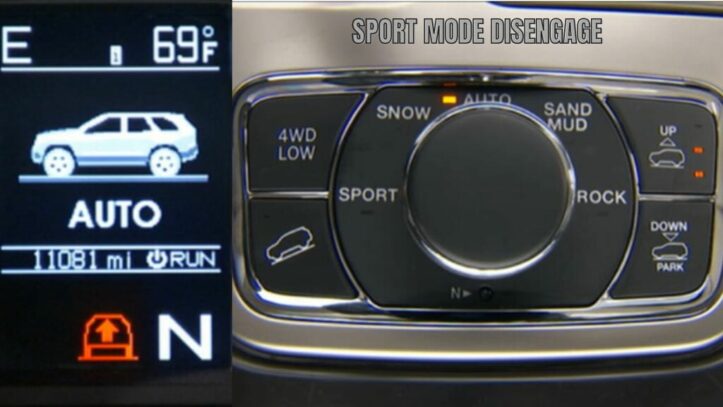 Sport mode negatively impacts fuel economy and engine lifespan. It's important to turn off sport mode when you are not in a hurry.
Switching from one mode to another or deactivation of mode is simple.
Deactivation of the sport mode as activation. By pushing the SPORT button OFF or by using the selec-terrain switch.
When the sport mode is deactivated, the sport mode indicator light will turn off.

Things to avoid while driving your jeep grand Cherokee fast
Turning the steering wheel incorrectly
Turning the wheel while driving fast can be critical. A lot of people use one hand or put one hand over the other to make a turn.
If you drive fast, you're at a higher risk of getting into an accident which is why you need to be mindful of your grand Cherokee airbags.
The airbag in the steering could send your hand flying into your face and cause serious damage if you put one hand over the other while turning; to avoid this, just remember to use the push and pull movement and never turn the wheel with just the palm of your hand or your thumbs.
Plying Loud music
Playing loud music can also affect your response time. Music louder than 95 DB hurts hearing.
A study conducted at the Memorial University of Newfoundland found that listening to loud music can slow down someone's reaction time by 20%; that is a necessary amount of time and could prevent an accident.
Sitting incorrectly
The seating position is the first thing to take care of.
Your leg should be slightly bent; if your legs are straightened, you need to move your seat forward.
The second thing you need to take care of is your arms; you should be able to rest your wrists on the top of the steering wheel with your arms still slightly stab; use your reclining adjuster to tailor your position.
What Users Say Regarding Jeep Grand Cherokee Sport Mode
Let's read some feedback from real owners who experience the the Jeep Grand Cherokee sport mode.
I use sport mode while city driving and dry condition highways to improve my driving experience, in my opinion it improves throttle response considerably but leaves holes in the handling which I assume is a result of the ESC being shut off. Not good for wet conditions.

https://www.jeepgarage.org/threads/sport-mode-when-is-it-used.63786/
I've turned off every safety feature I can. Also, I have driven in Sport mode exclusively and it was about a 3mpg drop which I can't afford since my Hemi only gets 13.5mpg.

https://www.jeepgarage.org/threads/sport-mode-when-is-it-used.63786/page-2
I drive in sports mode almost exclusively. Kills gas mileage around town but I cannot stand the throttle response of regular drive mode. Doesn't make a difference on freeway other than it downshifts to a lower gear than normal drive would, so immediately have more power available. Plus, my speed often varies between 30-60, and I do not want the suspension raising and lowering 10 times in course of a short trip, and sport mode eliminates that.

https://www.jeepgarage.org/threads/sport-mode-when-is-it-used.63786/page-2
FAQs
Can I put my Jeep in sport mode while driving?
Yes, you can turn on sport mode while driving.it functions like cruise control, meaning you activate it whenever necessary. But we suggest you don't use sport mode frequent; it affects engine life and fuel economy.
When should you use sports mode?
When you are in a hurry or moving with lightning speed on a zigzagging road, sport mode increases engine and steering wheel response and lowers the vehicle's height for better manoeuvre through the sharp corner.
Does sport mode use more gas?
Sport mode can increase engine power, torque and quick acceleration. Because sport mode gives such capability to the vehicle, it requires more fuel to burn.
jeep grand cherokee sport mode gas mileage
The Jeep Grand Cherokee has an estimated 19 city mpg, 26 highway mpg, and 23 combined mpg.
Sport mode offers more engine power and response. That way consumes more fuel and decreases gas mileage.
Related Article: Jeep Grand Cherokee Eco Mode
Related Article: Jeep Grand Cherokee Snow Mode
Conclusion
Sport mode is an exciting feature. If you want to explore the full performance capabilities of our grand Cherokee, then switch to sport mode. It enhances throttle response more combative transmission setting.
But it seems like the engine growls in sport mode and degrades fuel economy. Don't use the sport mode frequently uses whenever needed.
Sources
malaymail.com , getjerry.com, automotivehalloffame.org, hotcars.com, dubizzle.com, capitalone.com, jeepgarage.org, Car Throttle, BRIGHT SIDE, Jeep Grand Cherokee owner's manual.