Jeeps are vehicles with amazing on-road and off-road capabilities. Jeep enthusiasts have done a lot of customization to improve performance and get a better appearance.
In this article, we will discuss: what are wheel spacers? What is the purpose of a wheel spacer? Are they safe? There pros and cons; there are effects on fuel economy, among other things. and also have some Jeep wheel spacer before and after photos.
Jump to
What are wheel spacers?
Wheel spacers are machined pieces of aluminum that mount in between the brake rotor and wheel to change the wheel offset.
The wheel offset is the center of the wheel in relation to the mounting point of the wheel. The weaker or less aggressive the offset, the more the wheel would fit in the Jeep.
Wheel spacers can be different in two different aspects: metallurgically and dimensionally. Basically, there are two styles of wheel spacers: bolt-on and slip-on.
The slip-on wheel spacer, paired with an extended wheel stud, will allow you to push your wheel out without bolting anything to the hub. This merely slips on between your wheel and brake rotor.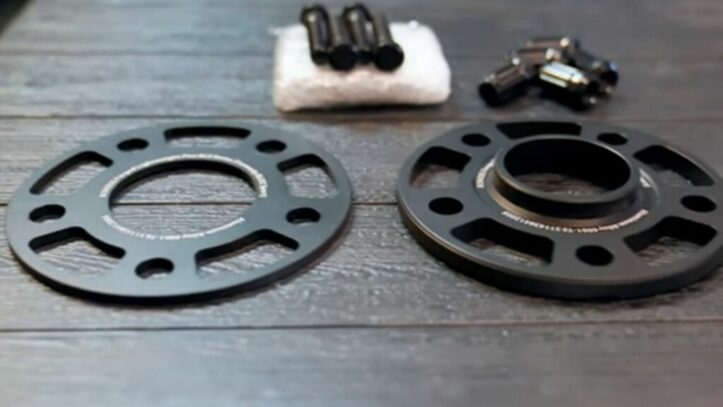 The bolt-on spacers have their own bolt, and lug nuts will allow you to bolt this up to your hub without installing extended studs.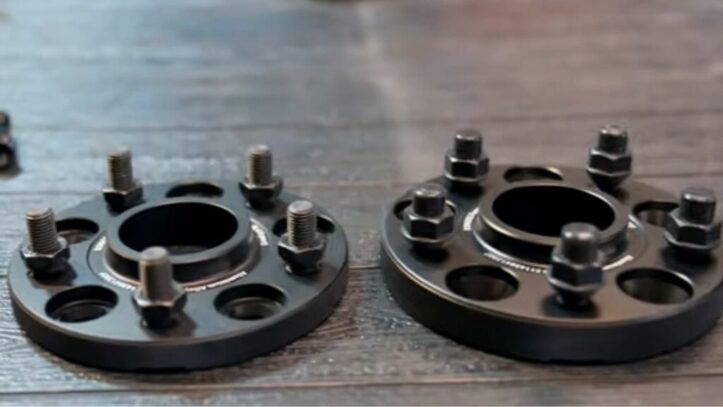 What is the purpose of a wheel spacer?
Wheel spacers are used when the wheel offset is not ideal. Here are some purposes of wheel spacers.
If you can't find aftermarket wheels and tires with the specifications you require, wheel spacers are the solution.
If you are trying to fit a big brake kit or suspension that doesn't fit with your current wheels, then you will push them out so that there is no interference between the calipers and the wheel.
Another reason for wheel spaces is to give you a wider track. So you have a more even distribution of your load on your tires, and that's how you're going to have more grip.
What size wheel spacers are OK?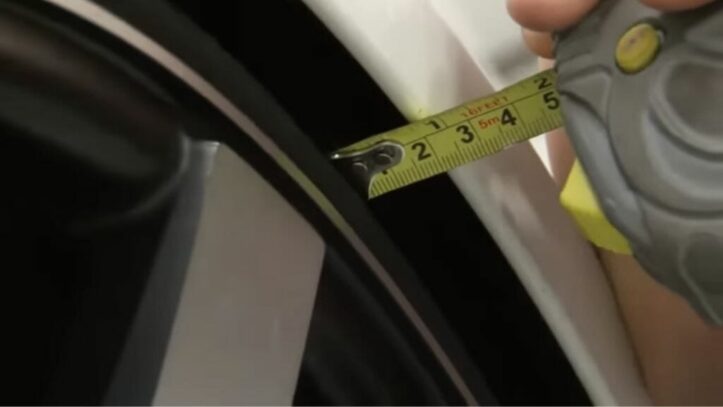 Before choosing the size of a wheel spacer, you need to know the clearance between your wheel and your fender wall. If you recently installed new suspension components, it is important to allow them to fully settle before taking measurements.
Measure the distance between the inner fender lip and the edge of the rim at the point of least clearance. Select wheel spacers that are a little thinner than this.
To safely run a thicker spacer, you will need to estimate how much the suspension will compress under the maximum vehicle load. measures the horizontal distance between the fender and the nearest point on the tire. This distance is the maximum available clearance. The wheel spacer for a Jeep is slightly thinner than this.
What are the pro and cons of wheel spacers?
Pros
Give your Jeep a wider stance.
Improving handling and stability by reducing vehicle body roll
Make your Jeep look more aggressive and sporty.
Keep your wheels and tires in good condition.
The Jeep gets better cornering.
You can use a big brake kit and aftermarket suspension.
Cons
Reduce fender clearance.
Change tire wear
Affecting toe characteristics, especially under braking
Increase steering efforts
Decreases steering stability under braking because of the scrub radius
Reducing the overall effective spring rate of your suspension
Are Wheel Spacers Legal?
Yes, the use of a wheel spacer on your Jeep is legal. In the United States, there is no federal law that makes it prohibited to use wheel spacers on the road.
Using wheel spacers is legal and not currently regulated, but the government has the right to prohibit their use. These laws change from time to time. So, check the law of a specific region of the country.
Do wheel spacers affect fuel economy?
According to Bonoss, a wheel spacer will not have too much effect on gas mileage. In other words, the effect is negligible, and there is no difference before and after installing a wheel spacer on your Jeep.
Some people think that wheel spacers affect fuel economy because they add weight. but now high-end wheel spacers are lighter. The wheel spacers improve Jeep stability and control. It has no impact on the gas mileage of your vehicle.
How Harmful is it to run wheel spacers on a Jeep?
The wheel spacer can damage your bearing. This is because the bearings aren't meant to bear that much force. Here is the Jeep owner's review of running wheel spacers on a Jeep.
Running wheel spacers on a Jeep is a VERY BAD idea. It puts undue stress on all four outer axle bearings, and in particular the front tie rod ends and steering knuckles. A Jeep is designed around the geometry of it's factory suspension and even then on the road handling is marginal. Wheel spacers are usually accompanied by big fat Commando tires, which exceeds the factory bearing loading parameters just that much more. Wheel spacers also are prone to coming lose at speed with disastrous consequences. Read the other answers and you will see even Jeep owners and certainly at least one Jeep mechanic agrees with me.
Best Wheel Spacers For Jeep Wrangler
Here are the best Jeep wheel spacers list:
KSP 5X5 Wheel Spacers, 1.5″ Forged Hubcentric (1999-2010 Grand Cherokee WJ WK, 2007-2018 Wrangler JK JKU, 05-10 Commander XK)
Orion Motor Tech 5×4.5 Wheel Spacers, 1 Inch Spacers (Jeep Wrangler TJ YJ Grand Cherokee Ford Explorer Mustang Ranger).
Rough Country 1.5″ 5×5 Wheel Spacers (2007-2018 Jeep Wrangler JK)
PUENGSI 1.5 inch Wheel Spacers 5×5 Hubcentric Wheel Spacers (JK XK WJ WK 2007-2018 Wrangler, 06-10 Commander, 05-10 Grand Cherokee).
Rugged Ridge1.75″ Wheel Spacer (2018-2022 Jeep Wrangler JL and Jeep Gladiator).
Jeep JK, JL & JT Wheel Spacers Before and After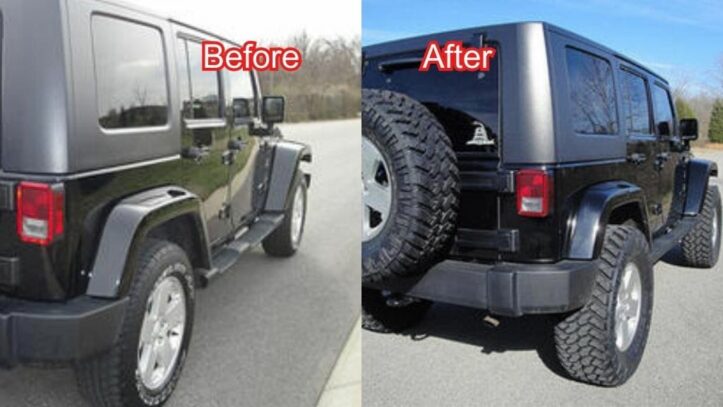 FAQs – Jeep Wheel Spacers Before And After
Why are spacers not recommended?
Wheel spacers are not recommended because they affect the suspension geometry. The spacer can push the wheel out, which can increase the scrub radius, increase the kingpin offset, and also increase the deflection force of the lever arm.

It's important to know whether your Jeep's scrub radius is positive or negative. If your Jeep has a bit of a positive scrub radius, the wheel spaces increase the positive scrub radius, which increases the force on the steering rack under braking conditions.

If your vehicles have a negative scrub radius, the wheel spacer makes it zero. The zero scrub radius causes squirming. Resulting unpredictable handling in corners and can also lead to understeer.

Second, wheel spacers increase leverage on the bearing. The wheel spacer causes wheel bearings to wear faster because of this increased rolling resistance and power loss.
Finally, the wheel spacer moves the wheel away from the damper mounting point. this will cause roll more on corner entry and exit.


Do spacers affect ride quality?
Generally, wheel spacers will not affect ride quality when they are the proper size and are installed properly. The thicker wheel spacers and improper installation will affect ride quality.

According to Bonoss, the wheel spacers would not hurt the ride. Conversely, wheel spacers make the ride quality better. The spacer gives the vehicle a wider track, which can increase stability and control and give you better cornering. and you may feel a difference between the Jeep wheel spacer before and after.
Are wheel spacers safe for 4×4?
The wheel spacer has no issue with your 4×4. The spacer moves the wheel away from the mounting hub, giving the Jeep a wider stance. This will increase stability and control. But the fact is, you choose the proper size of wheel spacer and install it properly.

You can also use larger brake kits and aftermarket suspension, and you can change the lug nut and bolt pattern for your specific rim and tires combination with the help of wheel spacers.
Are spacer lifts good for off roading?
Lifting with wheel spacers provides many advantages for off-roading. The spacer lift will increase traction control, stability, and rollover resistance.

The spacer lift is good for off-roading because the taller tires increase the ground clearance of the Jeep, and you can easily get out of bigger obstacles. and you can get better traction because of the lifted suspension.

The spacer lift is not bad if you install it correctly and if the spacers do not lift the Jeep too high.
Are 2-Inch Wheel Spacers Safe?
Yes, if the 2-inch wheel spacers are installed properly and the spacer is hub-centric. The hub-centric wheel spacer eliminates vibration issues.

If you use a 2-inch wheel spacer, the bolt-on wheel spacer is safer. The 2-inch spacers will reduce the 50-mm offset. This increases the track width of your Jeep, and because of the wider stance, the roll resistance increases. resulting in better stability and cornering.

But some people say no, a wheel spacer is not safe, and you will not run the spacer; otherwise, your entire vehicle is gonna implode.
Final Words – Jeep Wheel Spacers Before And After
The wheel spacers are used to change the wheel offset. These are placed between the brake rotor and the wheel. There are two types of spacers: slip-on and bolt-on. The wheel spacers are used to make the Jeep more aggressive-looking, to fit a bigger brake kit, to change wheel rim specs like the bolt pattern and diameter of lug nuts, or for better stability and control.
Wheel spacers have many positives but also some negatives, such as increased bearing leverage. Change the suspension geometry; this can increase the scrub radius, kingpin offset, and deflection force of the lever arm.
Always use the correct size of wheel spacers, and before choosing a wheel spacer, measure its size. For better safety, use hub-centric wheel spacers made of good-quality metal. Use spacers for trusted brands on the market. For a thicker 1- or 2-inch spacer, a bolt-on wheel spacer is safer.
Sources
what are wheel spacer and their purpose
What're the Pros and Cons of 2-inch Wheel Spacers
How harmful is it to run wheel spacers on a Jeep